Black Cactus Blog
by Anna Jackson on 10/20/13
I should be keeping an art journal but for now I'm using Instagram!
Please feel free to follow me and share your daily pictures. I'd love to see them.
http://instagram.com/blackcactuslondon
- Anna
by Anna Jackson on 10/15/13
The Black Cactus studio is not a particularly glamourous place. I often see photos of other people's work areas and they're tidy, attractive and tranquil spaces. Mine looks like a fabric bomb exploded in it!
But I know you won't judge me and thought you might like to have a bit of a look around.
My studio is on Vanguard Court in Camberwell, an off-street Mews of studios, sheds and spaces for lots of different creative-types who need to feel OK about the mess they're making. There are studios for ceramics,
jewellery
,
wood carving
and even a company that make the most amazing window displays for Fortnum & Mason.
For me, the best part of my studio is the heat press station. I like to call it the 'station' because it makes me feel like I have important work to do.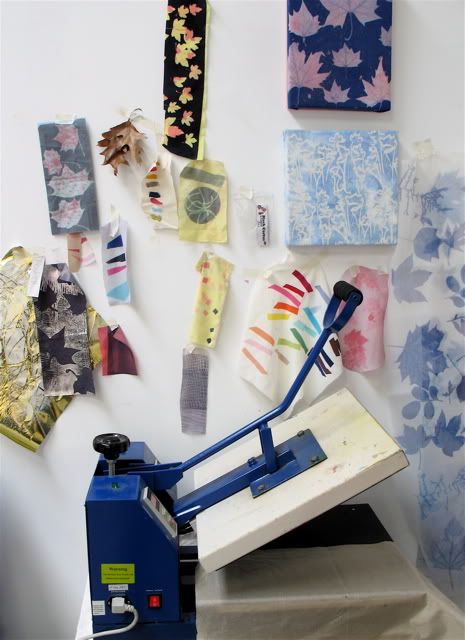 I keep any samples to remind me of textures I've managed and hope to re-create for a piece. Remembering to experiment and play is so important because I never know what new ideas might pop up - "Ooh how unexpected and quite lovely, I'm going to use that!".

No fabric gets thrown away however disgusting the print might be (I've made some doozys!) because even months later, re-printing it with a new element might finally tie it together.

The unpredictability of printmaking is what keeps me in love with it.

All my hand printed fabrics get heat cured using this press too so they're colourfast and hard-wearing. The samples below are made by pressing grasses and leaves onto the fabric and then over-printing with gold foiling, with some lush results.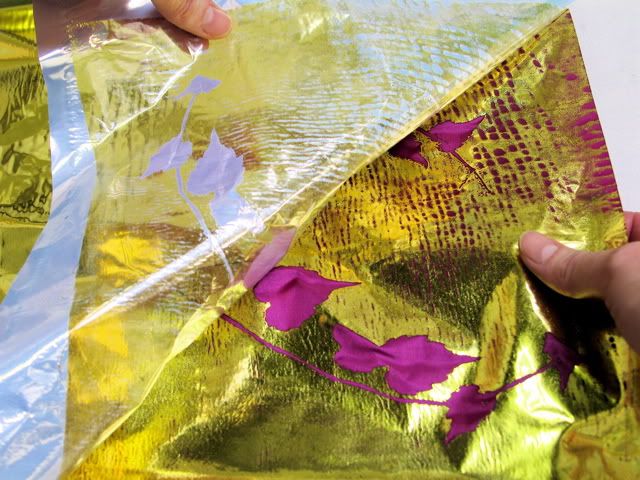 Mmm shiny!

So that's the heat press, my favourite part of my studio. Thanks for popping in!

(This is my first blog post here due to some website tweakings so there'll be more to come soon).

- Anna